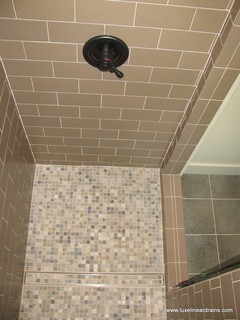 If you're building a new home or just remodeling your master bathroom, you obviously want to give your space a fresh and updated look. A new tub, tile floors, and a sleek new vanity are just a few of the items you plan to include in your space. The last thing you want to do is ruin the look with an ugly, standard-looking round drain for your walk-in shower.
While most homeowners may not initially think about the appearance of their shower drains, it is an important point to consider, especially if there is a chance you may sell your home in the future. The more visually appealing your home is, the more likely it is to sell, and sell quickly.
Instead of a standard shower drain, opt for a linear shower drain, such as those from LUXE Linear Drains. We have four types of linear shower drains – wedgewire, pattern grate, and mirror polish, all of which are made of 100% stainless steel, as well a tile insert linear drain option. All of our linear drains are integrated into the floor of your shower or bathroom, presenting a polished, sleek appearance.
Visit the LUXE Linear Drains website for more information on our linear shower drain products, or give us a call at 877-398-8110. We'll be happy to share with you how ugly shower drains can become a thing of the past!