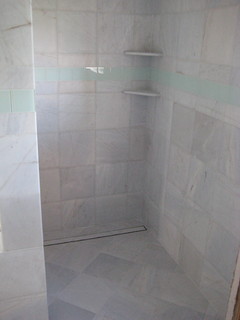 When it comes to bathroom design, one overlooked feature is the drain. A linear drain is a great way to promote good health and is also a method to limit complications that can develop by using other standard drain types. The common complaint is how the drain stands out.
A perfect way for homeowners and business to keep all the benefits of a linear drain while still maintaining the aesthetic appeal of the space is to use tile inserts.
Tile inserts are made to match the current tiles used where the drain is located. It slips over the drain without hampering the function of it.
If you find draining hole sitting in the middle of your shower unsightly, this is the option for you. Why settle for compromising the beauty of your flooring? Make it flow perfectly with these amazing tile inserts.
Our professionals will be happy to talk with you about your options in tile and drains, or see what other people are saying on our Facebook page.
photo courtesy of Houzz